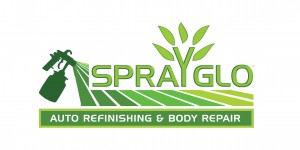 Sprayglo® Auto Refinishing and Body Repair is committed to integrating sustainability efforts into every aspect of our business. While we paint your car, here's what we do to make sure that we also do what we can to save the environment:
•All Sprayglo® locations use a roll on primer. This eliminates 100% of the overspray that was previously released into the air.
•Sprayglo® uses EPA certified High Volume Low Pressure (HVLP) or equivalent spray guns, which reduces overspray and puts more material on your vehicle. Not only does this help save the environment, but it helps save you money!
•All Sprayglo® branches paint vehicles in paint booths equipped with 98% or greater efficiency paint arrestors.
•Sprayglo® uses Volatile Organic Compound (VOC) com pliant paint and materials.
•All Sprayglo® Auto Refinishing and Body Repair employees are trained to minimize waste and in the proper application of all materials.
•We recycle solvents, nearly eliminating the need to dispose of used thinner.
•We use enclosed gun washers, which minimizes evaporation and spilling of thinners and exposure to chemicals.